In the heart of the Broadway Theater District…
We found a space to ride LA's tidal wave of urban renewal.
Located in the historic Wurlitzer Building.
We took possession of the entire 11th floor.
Just under 7,000 sq ft of raw creative canvas.
A proper space plan was drafted in consultation with Shannon Han and Hunter Knight of Weather Projects.
We needed to balance open office spaces for creative collaboration, with private conference rooms and call rooms for discrete meetings and calls.
But natural light and window views were mandatory—for everyone.
Original design mockup for reception area.
A little IKEA and a lot of creativity help reflect the agency's philosophy that people don't live in cultural silos.
Collage wall mural mashes up distinct cultural and digital references, original artwork from agency designers, and subtle winks at our regional offices overlaid with Sensis brand colors. Mural art direction by David Galván, with additional designs by Stephany Reyes and Giorg Yela.
Adjacent the reception area sits a glass-paneled main conference room providing sound insulation without sacrificing light.
Skyline view from the main conference room will soon boast a rooftop urban park and green space.
Pops of Sensis brand orange dot the break room with playful cardboard pendants and melamine chairs.
Round tables encourage casual conversations within a broader group space.
Natural light from the break room extends to the secondary conference rooms through floor-to-ceiling glass panels, with additional light coming from windows in the creative department beyond.
Two secondary conference rooms easily become one for large agency gatherings.
A sound insulated, expandable/retractable accordion wall will divide both rooms to allow holding separate meetings simultaneously.
Six private call rooms are discretely tucked into rear hallway spaces to facilitate one- or two-person calls. French doors let natural light in.
A casual creative lounge conveniently sits furthermost from upper management, account service and reception areas, to allow for unrestricted brainstorming.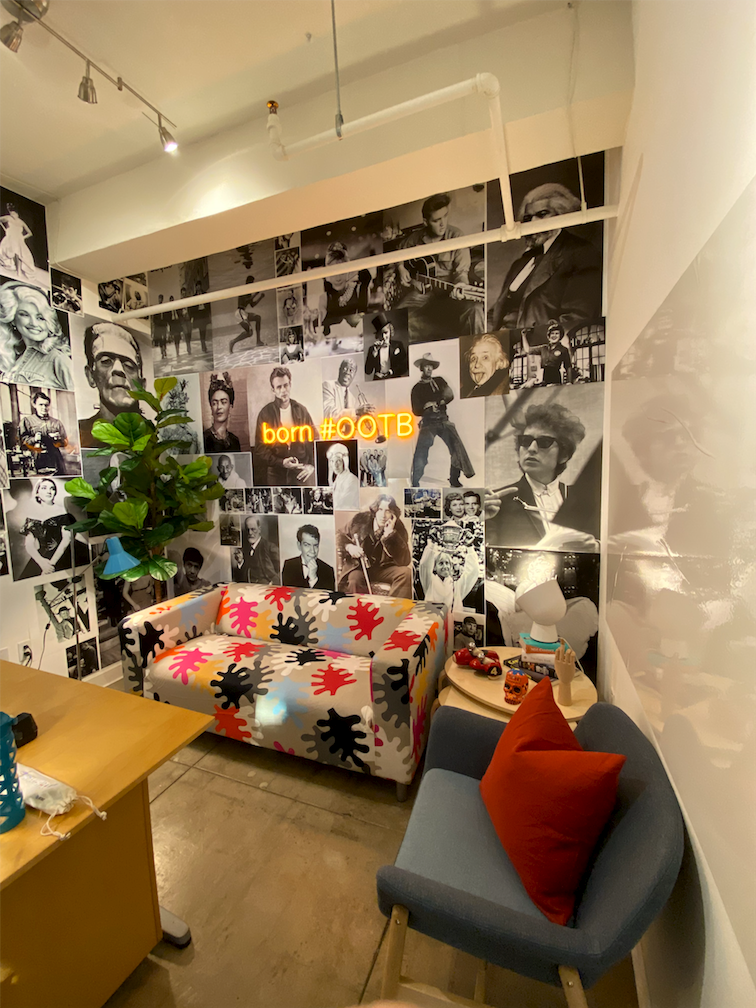 For my own office, I chose a representative wall mural collage of cross-cultural trailblazers—each of whom thrived outside of their "cultural box."
The creative department dominates a primary area just beyond the call rooms and secondary conference rooms. All desks are open for group collaboration.
Creative sits at the far end of the office, followed in ascending order by digital experiences, earned media, strategy, paid media, account service, finance and managing director offices.
But every employee gets a desk with a view.
360º of stunning and ever-expanding LA skyline.